Why A Newgate Clock Belongs In Your Home
British-brand Newgate seems to be more of an extension of founders' Jim and Chloe Read's own experiences and personal design tastes than a commercial design studio in a traditional sense. The brand is renowned for producing high-quality clocks that take inspiration from their own archives to create a range of vintage, industrial, retro and mid-century dials.
Naturally, when Jim and Chloe met in their late teens they discovered they had much more in common than they first thought. Both of their respective parents were antique dealers and they would regularly share childhood memories of being dragged along to auction rooms and antique shops to unearth something new. That sense of romanticism and authenticity has been directly injected into the DNA of Newgate; which is why, despite only being founded a quarter of a century ago, the brand has earned its place as the leading British clock brand.
As luck would have it, Newgate has launched a range of its most popular clocks and watches at OPUMO, and the collection features a lot more than just the ever-popular Brixton and Battersby Wall Clocks. And since we're such big fans, we have picked out three of the essential Newgate clocks that no home should be without.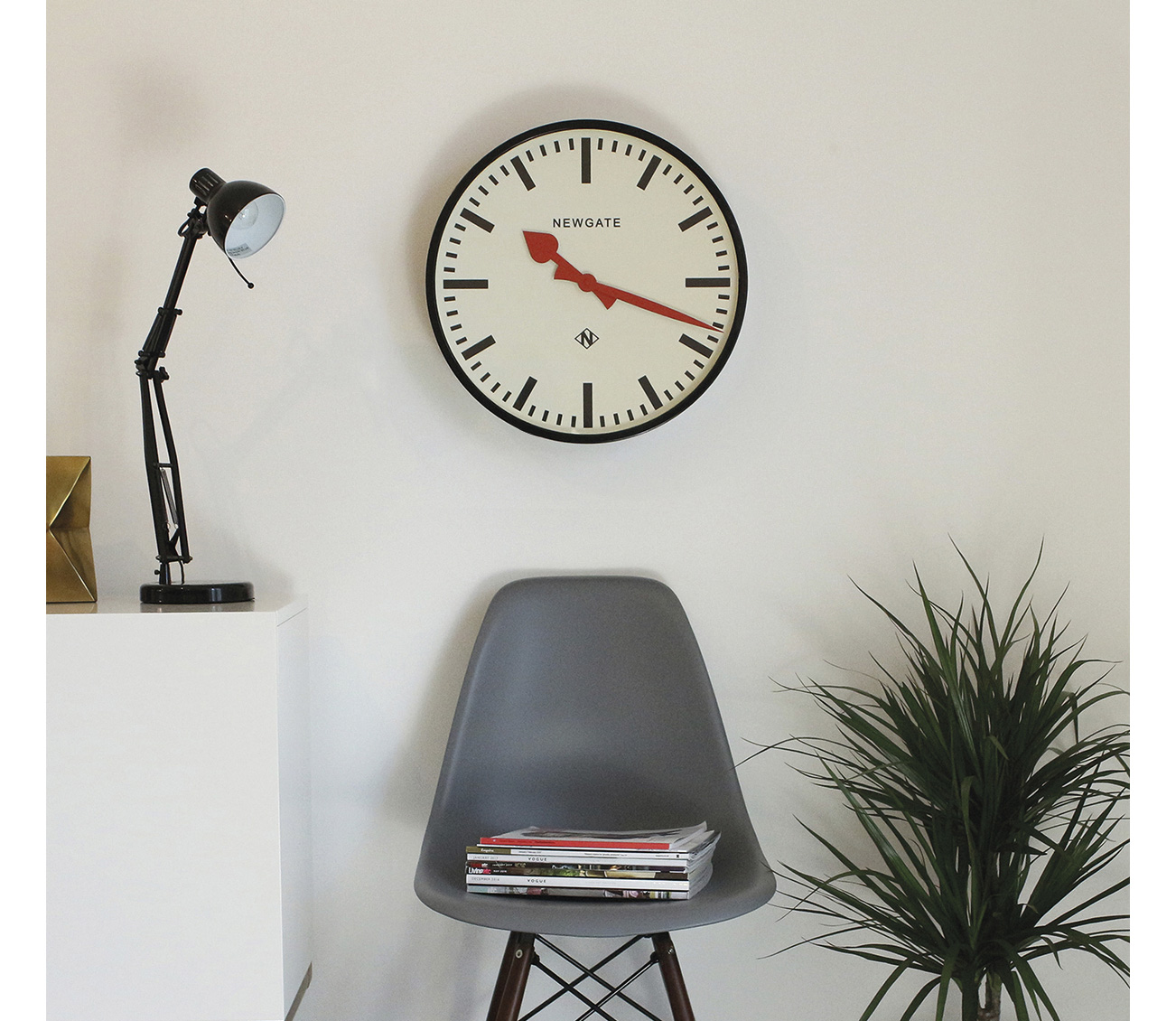 Newgate Putney Clock
You read an awful lot about how one simple thing can dramatically upgrade your interior and you would be forgiven to look upon this statement with a little bit of scepticism. But its not until you introduce a large wall clock into your interior that you understand what that is all about. Not only is a wall clock a great way to create an alternative focal point within a room, it's also great for adding depth, texture and practicality. Take the Newgate Putney Clock, for example.
The Putney is one of the most popular clocks from Newgate and that's because it is equally at home in an industrial, retro or minimalist interior as it carries such an iconic look. The large wall clock takes inspiration from the clocks that used to be hung in railway stations during the 1940s and 50s and translates the original retro design into a modern contemporary timepiece.
Newgate Chrysler Wall Clock
The Newgate Chrysler Clock certainly leans towards the modern end of the wall clock spectrum; and that makes it a whole lot easier to incorporate into a contemporary home setting. Inspired by vintage mid-century style, The Chrysler's focus is on burnished stainless steel which gives the clock a beautiful high-shine finish. Plus, it is allied with a bold graphic black dial and simple linear hands which means it can hang handsomely as a statement home accessory with its Chrome or Copper finish.
Newgate Underpass Wall Clock
Newgate is known for its array of industrial designs, iconic colour combinations and use of classic typography; and all of that and more is dutifully delivered to you in this Underpass Wall Clock. Its a nice option in comparison to other Newgate clocks because its square, but we think you'd be hard to beat it for its combination of quality craftsmanship and  understated, stylish design.
The Newgate Underpass is best suited to offices compared to its spherical friends and that's because it takes direct inspiration from the industrial-style of the iconic London tube station clocks. Great for the office because it will not only look good with its square-cut pressed metal case, flat glass lens and bold railway marker dial, but it will also act as a gentle reminder of why you have chosen to work from home – the fact that you needn't bother with the tube nor the commuter rush any longer.
---