Majority Bowfell Soundbar Review: the best budget soundbar
The Majority Bowfell Soundbar is a quaint little product, which perhaps isn't the most inspiring of things to describe it to people wanting to see if it's any good or not, but I can't truly find a better way to sum it up. It's a compact little soundbar that's great for giving your TV and computer a sound upgrade, especially if you're on a tight budget.
The Majority Bowfell Soundbar comes with 1 3.5mm to 3.5mm AUX cable, 1 RCA to 3.5mm cable, 1 mains power cable, as well as a remote and 2 AAA batteries. The soundbar itself is quite small, so it fits neatly on TV stands and computer desks without taking up too much space, and also can be carried around with ease. It can also fit into small bags if necessary and is compact and sturdy enough that it can handle being dropped and doesn't feel flimsy.
There are plenty of other soundbars out there, but this one feels more than beneficial for buyers who are looking for something that doesn't break the bank but still offers an incredible wave of sound.
Read on to find out more about our impression of the Majority Bowfell Soundbar.
Key Specs
Dimensions: 38.8 x 5.4 x 7.2 cm
Power: DC 12V 𝌂 1.5A
Bluetooth: Yes
Weight: 1.5kg
Speakers: Stereo
Supported files: MP3, WMA, WAV, FLAC, AAC+
AUX/RCA: 3.5mm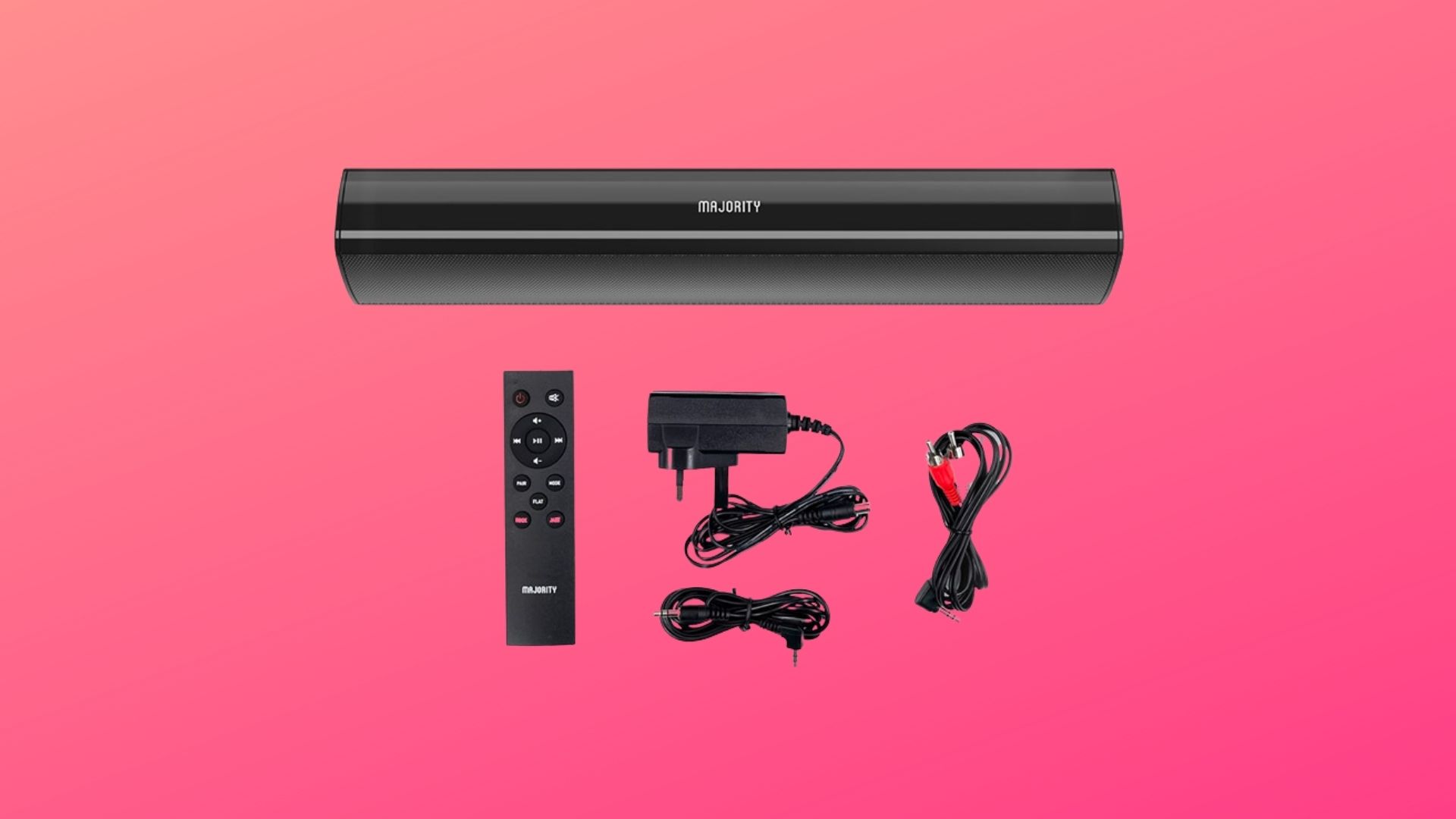 Set-up and Connectivity
The Majority Bowfell isn't all too hard to set up to your mobile or PC, largely due to the product having Bluetooth where set-up is as easy as plugging the soundbar in at the mains and connecting it to your mobile or PC in a few clicks of the button. For example, it took me around 2 minutes tops to get it set up and ready to go. It really is that simple.
That said, if you have a TV that doesn't have Bluetooth, it does get a tad harder for those like me who aren't too up to date with tech. Even so, a YouTube video later and I'd set up the Bowfell through the RCA cable, taking a bit longer than 5 minutes but still not too much effort overall. I would have still preferred the Bowfell to have used a HDMI cable, as set-up would have been made easier, but it not having HDMI isn't the end of the world. Just a bit frustrating.
The only downside in regards to connectivity is that trying to connect the soundbar directly to my phone through the 3.5mm AUX cable led to crackles and pops to blast out through the speakers. I have a pretty beat up Samsung S10+ so I first assumed that my phone was incompatible because of that, but after trying it on a friend's phone, I came across the same thing. It works fine if you don't touch the phone at all, but trying to move your phone even a tad – to change songs, to turn the volume down, etc – led to noise distortion. Not great!
Ultimately though, connecting the Majority Bowfell soundbar to my devices was an easy task. Newbies just need a little patience and YouTube.
Features
The Majority Bowfell Soundbar comes with only a few features, though none of them felt particularly groundbreaking. The first is the remote control it comes with, which makes using the soundbar pretty straightforward. While you can easily use the buttons at the side of the device to turn everything on and off, turn up/down the volume, it's always nice to be able to do so from your cozy spot on the sofa.
On the remote control, there are also Jazz and Rock options which are supposed to change the sound to make it fit more in the heavy hitting bass of Rock and the sweet, delirious joy of Jazz. I gave this a go with my Spotify playlist, but there was very little change in sounds, and trust me, I sat with my ear near pressed to the soundbar to see if there was perhaps even the slightest of difference. From what I could tell, Rock only seems to make the volume louder. It feels like a bit of a waste of a feature, to be honest.
Another feature is that the soundbar comes with a USB port, allowing you to plug a USB in to play audio from it. I personally found this a little gimmicky, as I'm not the type of person to put my music on my USB anymore thanks to a lot of music streaming apps and websites, such as Spotify and Apple Music. That said, while the option may not be for me, I can appreciate that others might find it helpful.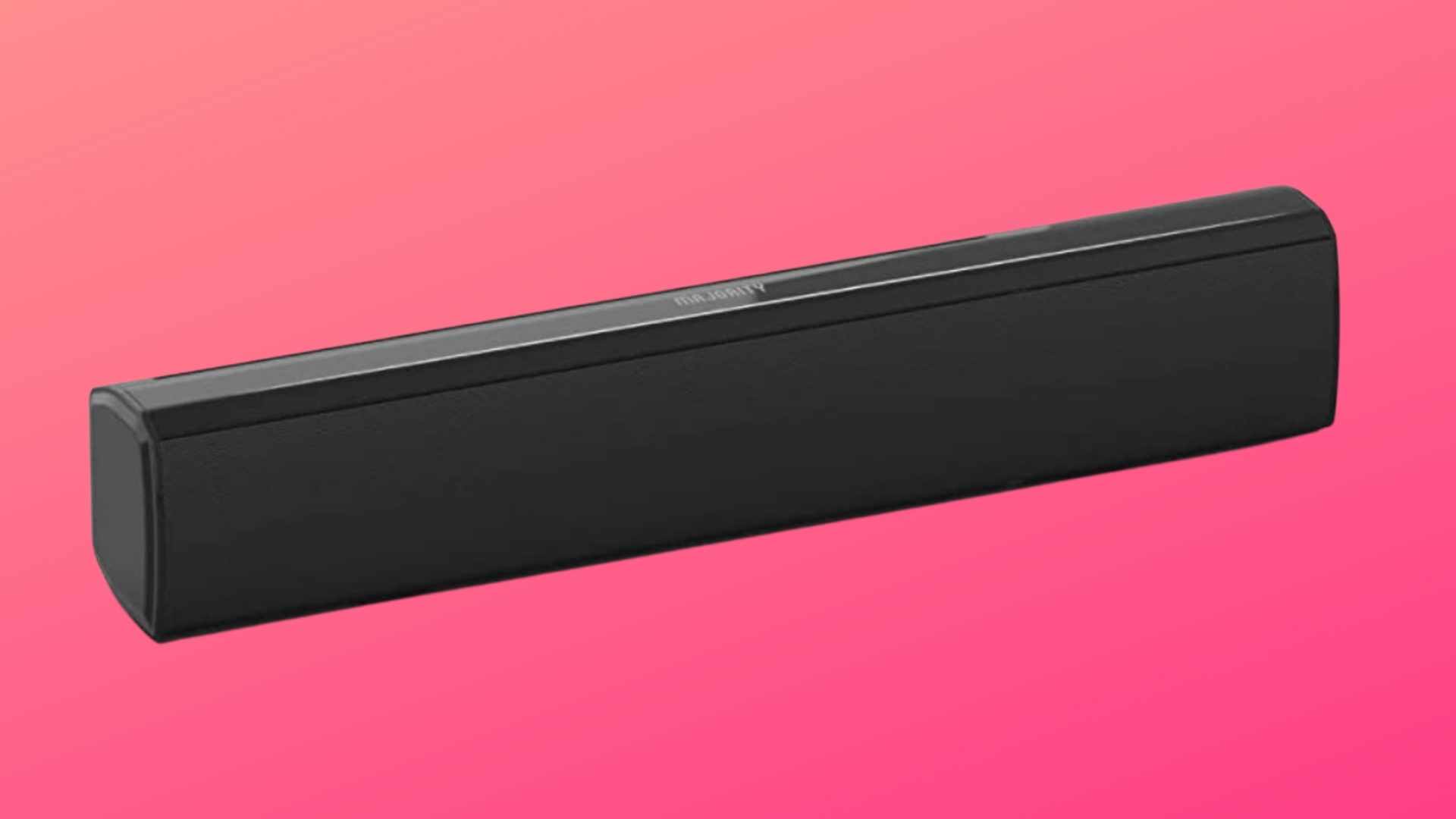 Sound
Now onto the real question: what is the sound like?
The answer: it's pretty decent for the price of the Majority Bowfell Soundbar. There is a decent amount of bass and as I found out, sound can be heard from even a few rooms away, even with the door closed.
That said, the audio potential truly shines most when paired in a small space – making it great for PC gamers in particular due to the close proximity when gaming. You'll be able to hear the heavy "phew' noises of blaster bolts in Star Wars: Battlefront 2, as well as background environmental sounds with crystal clear clarity.
The Verdict
Overall, the Majority Bowfell Soundbar is a decent product for gamers and TV fans who want to experience a significant upgrade to sound without feeling bad about emptying your wallet for the month. It isn't anything groundbreaking, and there's not enough features that'll make it stand out from the crowd, but if you're looking for an alright soundbar then this one will do the trick.
---