GfK summer listening study shows high levels of radio consumption over COVID-impacted holiday period.
Nearly nine in 10 radio listeners consumed as much or more radio over summer as they do during the rest of the year, as surging Omicron outbreaks disrupted holiday and travel plans, according to the fifth annual GfK Summer Listening report released today.
The study found 91% of listeners consider radio a great source of information over summer, and while many were forced to spend time in isolation due to COVID, 66% listened to radio to feel connected.
CEO of Commercial Radio Australia, Joan Warner, says, "Radio is synonymous with an Aussie summer, and while this was a particularly challenging summer for many people, they stayed connected to their communities through radio."
The research showed radio consumption has remained at high levels across the past five seasons the research has been conducted.
The first survey in 2018 found 88% of listeners listened to as much or more radio over summer, with a dip to 85% in 2019 before rising back to 88% in 2021 and 89% in summer 2022.
Warner says, "The summer listening trend has proven to be consistent both pre- and post-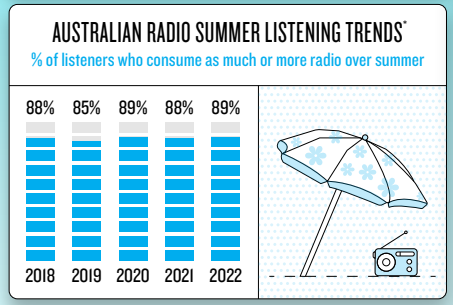 COVID, through emergencies such as floods and bushfires, and whether people are at home or away from home."
Despite the impact of COVID on movement and spending this year, 89% of radio listeners said radio kept them informed when out and about and 65% said they listened to radio at their holiday destination.
Radio listeners also spent more than non-listeners – 29% of radio listeners spent more on groceries in summer compared to 16% of non-listeners, while 16% spent more eating out, compared to 7% of non-listeners.
An interesting trend to emerge this year was the increase in radio listening among younger listeners across different locations and on different devices.
Twenty-five percent of those aged 10-24 listened to more radio over summer, with 27% listening more in the car, 20% listening more at home, 17% listening more at the beach and 14% listening more at work.
The under-25s were also more likely to listen with other people and believe radio enhances time spent with family and friends.  One in three (35%) said they had discussed what they heard on radio with others.
In a sign of the continuing growth in digital listening, 40% of this age group used a smartphone to listen over summer, compared to 57% who listened on an AM/FM radio.
Among those aged 40-64, one in five listened to radio on a smartphone and 16% listened to more radio at home this summer.  Ninety-three percent of listeners in this older age group said radio is a great source of entertainment over summer, 76% said radio is a great companion.
Listeners in regional Australia particularly value radio for news and information.  More than one in two regional listeners said they listen to radio for breaking news, while 76% rely on radio in emergency situations such as adverse weather events, and 66% said radio is the place they turn to for updates on local news and events.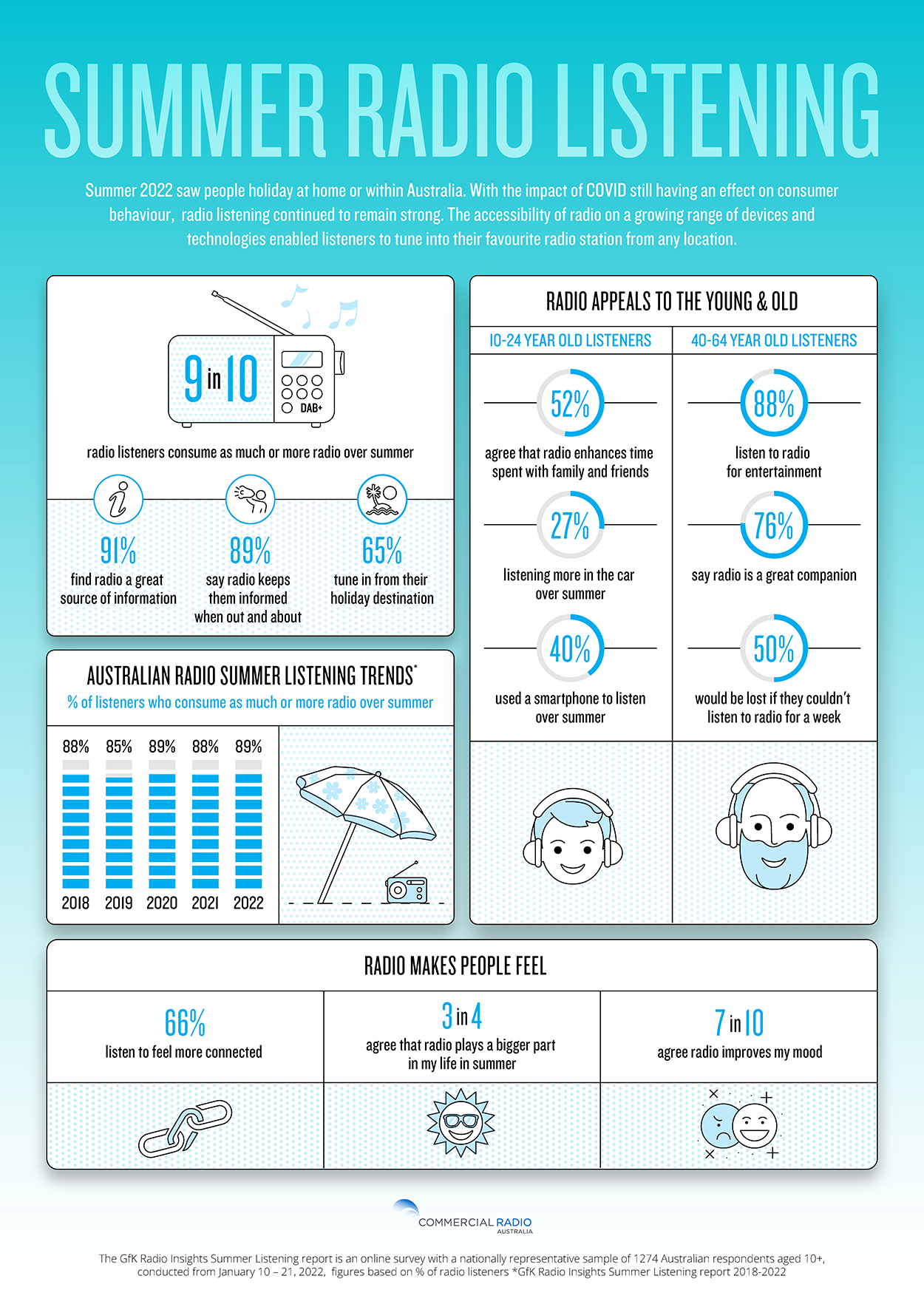 The GfK Radio Insights Summer Listening report is an online survey with a nationally representative sample of 1274 Australian respondents aged 10+, conducted from January 10 – 21, 2022.
Read more at:
https://radioinfo.com.au/news/gfk-summer-listening-study-shows-high-levels-of-radio-consumption-over-covid-impacted-holiday-period/
© RadioInfo Australia
---